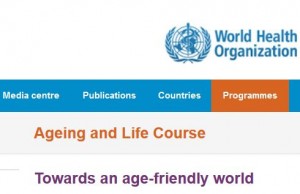 The World Health Organization (WHO) provides some interesting statistics on their "Ageing and Life Course" page that link to fact sheets on the same topics.  For example they state that 2 billion people will be aged 60 and older by 2050. That statement leads to a post on "10 facts on ageing and the life course" with a great slide show of those facts.  This could be incorporated into a presentation on aging in your community.
In addition to learning from their website, your community may also choose to join the WHO Global Network of Age-friendly Cities and Communities by completing an application which includes a letter of commitment from the Mayor and municipal administration indicating their commitment to the Network cycle of continual improvement.  See our recent post about New York City.
Communities are asked to do the 4 steps of the network cycle described on the application, which includes an assessment using the WHO Age-friendly Cities Guide.  This guide is intended to be used by individuals and groups interested in making their city more age-friendly, including governments, voluntary organizations, the private sector and citizens' groups.
Part 4 gives a full description followed by parts on each of the eight age-friendly city topic areas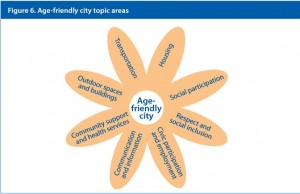 :
Part 5. Outdoor spaces and buildings
Part 6. Transportation
Part 7. Housing
Part 8. Social participation
Part 9. Respect and social inclusion
Part 10. Civic participation and employment
Part 11. Communication and information
Part 12. Community support and health services
This website is an excellent reference tool for planning in all these areas!