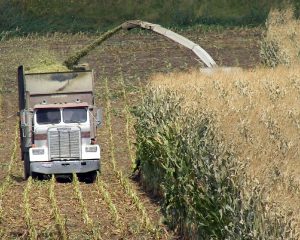 A modern farm can be a dangerous and unforgiving place.  Late summer and fall are high-risk times as harvest operations ramp up quickly.  In Wisconsin, we always have tight time windows to get forages, corn, soybeans and other crops harvested and put into storage  to make it through the year. It's that urgency and time pressure that can contribute to mistakes that often leads to injuries or even death.  Machinery plays a major factor in serious farm injuries.  Here are some ways to put safety into practice!
Think Like a Pilot – Or, a NASCAR Driver
The best way to prevent harvest season injuries is to invest prep time to get your equipment and storage structures ready for the busy season.  Adjustments and maintenance that improve safety also can also help maximize the quality and value of your crop. Many terrible farming injuries happen when a breakdown occurs. People get super-stressed or frustrated and then do something that they know might be dangerous.
As a farm owner, manager, or operator, think of your role the same way an airplane pilot or race car driver would.  That means you need to establish something like a pre-flight or pre-race checklist — a run-through and shakedown to make sure all systems are "go."
Consult your operator's manuals.  Are shields or guards in place – on tractors, choppers, blowers, wagons, combines, and augers?  Replace any questionable hydraulic hoses and know the status of any bearings and belts that you know might need to be repaired during the season.
Preventive maintenance on storage structures and their associated machinery or equipment is important. It's easier to do repair on a silo unloader at ground level than on top of a filled silo. Check fixed ladders that may have rusted or loosened over the year on grain bins or upright silos. Walk around horizontal silo walls checking for cracks and repair as needed.
Make sure to carry a fully-charged, 10-pound ABC dry chemical fire extinguisher on all machines including trucks. Train people on how to properly use the fire extinguisher and when to call the fire department. Keep first aid kit or safety supplies in field vehicles and farm buildings. Post a list of addresses as directions to various field locations.
Gear Up for Highway Travel
Minimizing the time you spend on the highway is always the best way to reduce hazard levels.  However, that's often not practical. Plan highway travel whenever possible to avoid busy or high traffic times including the early morning commute and the rush to school.  Evening times are high risk as people are in a hurry to get home from work or school and the sun gets low in the sky.
With fewer daylight hours upon us, make sure  SMV emblems and other extremity markings are bright and clean. Replace any markings that are faded or missing.  Daily check that warning lights, including flashers and beacon lamps as well as head lights are fully operational.  Remember, field lights or any white light to the rear are not for highway use. Make sure you fully understand and comply with all other state and local lighting, marking, width, and weight limit laws. Follow rule of the road laws and remember to warn motorists of your intent to turn by using signal lights or hand signals.
Train, Coach, & Create Expectations with Your Employees
Many farms have additional hired workers to assist with harvest – As an employer, spend time with them. Talk about your safety expectations.  If your farm publishes a  newsletter or posts safety notices, these are a good way to communicate special harvest safety practices.  The same is true if you're hiring custom harvest work. Discuss your operations safety practices with the custom harvest operators. Small things like discussing travel routes and speed for custom equipment as well as your daily operation equipment reduces stress for every operator.
 As a farm owner and operator, you must create and expect a culture of safety.  With everybody involved in the operation, demonstrate and walk through safe procedures. Operator's manuals and safety decals are a great source of information. Show people what to do if something unexpected happens.   Make sure everyone involved in the operation has a reliable way to communicate. But realize that if it's a smartphone, steps need to be taken to make sure people are not distracted by phone use.
A safe harvest requires a little extra effort on a daily basis. In the end the payoff can be significant when there are no injuries or down time during the harvest season.
Photo credit: 
Photo used with permission and under Creative Commons license.  Original by: Jess Johnson