A neighbor's teenager comes to you looking for summertime work. You could use some extra help on the farm and remember reading about Department of Labor Child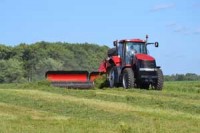 Labor Rules. Yes, there are regulations related to youth employment in agriculture that as an employer it is important know. Youth employees, like all employees, are to be provided a safe and healthy workplace. However, when you hire a teen worker, you have added legal responsibilities.
Employment Provisions based on Age of Teen Worker
There are different provisions under the Department of Labor (DOL) Fair Labor Standards Act (FLSA) based on the age of the youth for employment in agriculture. It is important to note that these standards apply to for work situations when the youth is employed by someone other than their parent(s) or person standing in place of parent(s).
If a youth is 16 years of age or older, he or she is no longer subject to the Federal agricultural youth employment provisions. (NOTE: For non-agricultural work a youth must be 18 to no longer be subject to FLSA youth employment provisions.)
If a youth is 14-15 -years-old, he or she may work outside of school hours in any agricultural occupations except those declared hazardous by US Secretary of Labor.
If a youth is 12-13-years-old, he or she may work outside of school hours in any non-hazardous agricultural jobs with written parental consent or on a farm that also employs their parent(s) or person standing in place of the parent(s).
Youth under 12 years of age may be employed on small farms outside of school hours in any non-hazardous agricultural jobs, with parental consent.
Parental Exemption from the Agricultural Provisions of the FLSA
A child of any age may be employed by his or her parent or person standing in place of the parent at any time in any occupation on a farm owned or operated by that parent or person standing in place of that parent. If a youth is working ( paid or not paid) on a relatives farm  (e.g. grandparents) and the youth's parents are not part of the farm business;  then these youth rules apply.
What jobs are considered hazardous for agricultural employment?
Eleven farm jobs are declared to be hazardous under the Hazard Occupations Order in Agricultural Act or (HOOA) . These jobs are prohibited for youth workers under the age of 16 with a exemptions for items 1 and 2 related to Safe Operation of Tractor and Machinery Certification Training for Youth.  

1. Operating a tractor over 20 Power Take Off (PTO) horsepower, or connecting or disconnecting an implement or any of its parts to or from such a tractor.
2. Operating or working on a corn picker, grain combine, hay mower, forage harvester, hay baler, potato digger, mobile pea viner, feed grinder, crop dryer, forage blower, auger conveyor, unloading mechanism of a nongravity-type self-unloading wagon or trailer, power post hole digger, power post driver, or nonwalking-type rotary tiller;
3. Operating or working with trencher or earthmoving equipment; fork lift; potato combine; or power-driven circular, band or chainsaw;
4. Working in a yard, pen, or stall occupied by a bull, boar, or stud horse maintained for breeding purposes; a sow with suckling pigs; a cow with a newborn calf (with umbilical cord present);
5. Felling, bucking, skidding, loading, or unloading timber with a butt diameter of more than 6 inches;
6. Working from a ladder or scaffold at a height of over 20 feet;
7. Driving a bus, truck , or automobile to transport passengers, or riding on a tractor as a passenger or helper;
8. Working inside a fruit, forage, or grain storage (grain bins) designed to retain an oxygen-deficient or toxic atmosphere; an upright silo within 2 weeks after silage has been added or when a top unloading device is in operating position; a manure pit; or a horizontal silo while operating a tractor for packing purposes;
9. Handling or applying toxic agricultural chemicals identified by the word "poison" or warning," or identified by a "skull or crossbones" on the label'
10. Handling or using explosives;
11. Transporting, transferring, or applying anhydrous ammonia.
(These Orders are published in Subpart E-1 of Part 570 of Title 29 of the Code of Federal Regulations.)
What are my responsibilities as an employer of a teen worker in agriculture?
As an employer of a teen worker there are a few steps you can take to prevent workplace injuries to teen workers.
Understand and comply with federal and state youth employment and occupational safety and health rules (OSHA). Tractors should have a ROPs and as an employee required to wear a seatbelt.  Check that machine guards are in place.  A best safety practice would be to require that any maintenance or repairs are completed by another farm employee.  The teen worker can learn by observing or assisting with repairs. 

Make sure that youth workers are appropriately trained and supervised.  Train youth to recognize hazards and to use safe work practices prior to having a youth do the job for the first time. 

Develop a safety program working with your supervisors and experience workers. Review past injury situations to help address hazards that may be easily overlooked on a daily basis.

Always stress safety and model good safety behaviors.

Remember, that youth have less life and workplace experience so they are at greater risks of injury. Extra training and supervision are extremely important.

Seven  Steps to Help Youth Prepare to Work Safely
Explain your farm's safety policies and procedures. When can a cell phone be used? Are friends allowed to visit them at work? What are your policies if they consistently use unsafe practices.
Provide them with the appropriate personal protective equipment (PPE) and explain when they need to wear the protective gear and how to correctly wear it. PPE may include eye protection, hearing protection, safety shoes, dust respirators or gloves. Also, for outside work remind them to use sunscreen and appropriate dress for the work task.
Give them clear instructions and explain safety precautions for each task. Review safety features and safe operation for  machinery/equipment they may be operating. Review the operator's manual and safety decals with them as a means to recognize hazards. If operating tractors and machinery, prior to any operation as an employer you must provide training.
Have the youth repeat your instructions and give them a chance to ask questions. Youth workers lack work experience and may not be comfortable asking questions. If you seem in a rush or disinterested, the youth worker probably won't ask a question.
Demonstrate to the youth worker how to perform the task safely and according to your procedures.
Watch them perform the task and correct any mistakes.
Ask if they have additional questions and continue to supervise their work. Don't let a youth worker take shortcuts and be sure other workers follow safe work practices too.
Prepare a youth worker on what to do in case of an emergency. Agriculture has employees working outside and need to be prepared for severe weather. Explain  who to call if another employee is injured, where to go for first-aid treatment and  how to report an injury or near injury incident.  Written directions to your farm or other locations where the youth may be working are beneficial in case of an emergency. Having a worker prepared for emergencies helps reduce your overall business risks too.
There's lots of farm work to be done this summer and youth workers can learn valuable work skills. It is important to not assume that a responsible youth has all the experience needed to do the job safely.  A safe workplace is important for you as an employer as well as for the safety and health of all your employees. Stay safe out there this summer!
Source: Adapted from Agricultural Employer's Pocket Guide on Youth Employment, US DOL, http://http://youthrules.dol.gov/