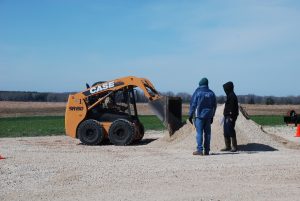 Safety is an important part of every agricultural operation. During the upcoming winter meeting season, University of Wisconsin Center for Agricultural Safety and Health is collaborating with UW Division of Extension to offer four session safety series as part of Farm Ready Research Badger Dairy Insight.  Join the webinars to learn the most up-to-date information on topics from dairy and livestock production to farm management resources.
December 8, 1:00-2:30 pm Safe Operation of Skid Steers
Skid steers are versatile machines on agricultural operations but a safe operator is key to their operation. This session will cover the basics of safe operation including potential workplace hazards, pre- and post- operation, operating a skid steer in different situations and use of attachments.  Skid steer safety training is recommended for new employees and every three years after the initial training. This webinar will help provide the classroom part of the Skid Steer Safety and an option for a written exam will be offered for those desiring a certificate of training as part of a workplace safety program.
This webinar will use a new technology that provides for live Spanish interpretation. Participants must have Zoom version 5.0 or higher on their computer. Sorry the live Spanish translation feature does not work on Chromebooks at this time.  It is recommended that participants use headset for the audio connection.  The webinar classroom will open at 12:45 pm for each session to allow participants time to get connected and familiar with Zoom features.
 Register for Safe Operation of Skid Steers
Additional safety webinars are:
January 8, 1:00-2:30 pm  Preparing for an Emergency
The sound of sirens echoing through the rural countryside, whether in response to an accident, fire, or a natural disaster, brings warning of potential loss to individuals or businesses involved. When an emergency happens, response time is essential. Preparing for An Emergency will cover actions steps you can take for different types of emergencies, Things that will help first responders, creating your emergency team, and help develop business continuity.
February 9, 1:00-2:30 pm Preventing Injuries when Working with Cattle
The cost of injuries – medical, lost work time, personal suffering- from working with cattle can easily add up from injuries such as broken bones from a  stepped-on foot; punctured lungs and  broken ribs from the force of a head strike or health risk from a needle stick. This program will focus on worker safety with topics to include: OSHA employee rights and responsibilities, working safely in different environments; considerations to improve safety with chutes, gates, lighting; special considerations for handling down cows, administering vaccinations, and livestock transport.
March 9, 1:00-2:30 pm Oh, CRASH! Safety Considerations for Agricultural implements on Roads
Road travel with agricultural implements is a high hazard, often dreaded, part of farming. Sharing the road means operators need to have their vehicles meeting legal requirements as well as operating in a safe manner for road travel. Program topics include: lighting and marking requirements, rules of the road for implements of husbandry (IoH) and new considerations for high speed tractors. 
For registration information and a complete schedule see Farm Ready Research.