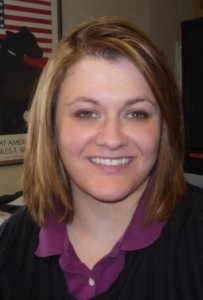 Aerica began her UW-Extension career in January 2007 as Dairy and Livestock Agent for both Kewaunee and Door County. Kewaunee County agriculture generates approximately $490 million dollars annually, and has experienced a growing dairy industry in the past decade. Both Kewaunee and Door Counties also have a number of farms that raise livestock other than dairy.
Aerica identified a great diversity in the size of local dairy and livestock operations and then planned and implemented programs according to their needs. Her proactive outreach included new research, publications, curriculum development, as well as improved profitability for farm clientele.
For example, she researched local farmer criteria for artificial insemination use and selection, which lead to publication of a fact sheet, news articles and a presentation to dairy industry professionals at the annual Four-State Dairy Extension Specialists meeting
Aerica also authored and co-authored fact sheets for the UW-Extension Small Farm Series ("A Guide to Raising Health Sheep" and "A Guide to Raising Healthy Goats"). These publications are included on one of the nation's leading Extension resource website for sheep and goat producers at the University of Maryland, as well as the UW-Extension Learning Store (http://learningstore.uwex.edu/Small-Farms-C316.aspx?s=NameASC&p=2).
Aerica has also been one of the UW-Extension pioneers in Farm and Employee Safety training, including a survey of local dairy farm safety concerns which led her to help develop and pilot a Cattle Handling Skills Module for the UW Extension Dairy Workers Training module series, a dual-language training programs available worldwide on CD, DVD, and USB through UW-Madison's Babcock Institute ( http://babcock.wisc.edu/node/736), including all materials necessary for a full instructional program in English and Spanish.
Aerica has also worked closely with individual dairy farms in Kewaunee and Door County helping them increase profitability by tens of thousands of dollars through a facilitated team approach to help improve forage and/or milk quality.
To learn more about Aerica Bjurstrom's scholarly work, click here. (For more information, or to access referenced exhibits, contact Aerica directly at BjurstromA@kewauneeco.org )