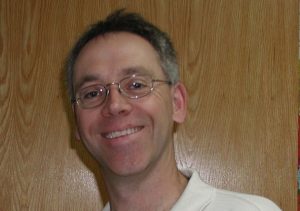 Jerry Clark has served as Chippewa County's UW-Extension Crops and Soils Educator since 1998. Jerry served as the Eau Claire and Chippewa Counties Agronomy Educator from 2009-2014. He currently has been appointed to Chippewa County alone. His programming efforts are with Manure and Nutrient Management, Forage Production and Commercial Apple Production.
In Chippewa County, custom manure applicators seek training opportunities to keep them up to date on nutrient management regulations, manure handling, and public road operation. Jerry has served as co-leader of the UW-Extension Nutrient Management Team's Custom Manure Applicators Workgroup and facilitated the formation of the Professional Nutrient Applicators Association of Wisconsin (PNAAW). Jerry initiated the PNAAW Voluntary Certification Program providing professional training and certification to manure applicators. This training helps to reduce environmental impact, keep employees safe and helps operators run their businesses efficiently. Jerry is also the co-author of the PNAAW Level One Training Manual. Because of Jerry's nutrient management workshops, on-farm research and demonstrations, farmers have saved approximately $130,000 yearly.
Jerry collaborated with UW-Extension specialists, participating in statewide alfalfa variety trials and alfalfa plant analysis sample collections in response to local farmers and field agronomists reporting suspected sulfur deficiency in alfalfa fields. Jerry educated farmers on the importance of proper harvest times for alfalfa and corn silage, the importance of integrated pest management, and implemented local on-farm research trials studying the efficacy of using foliar fungicides on corn. Jerry also developed a series of irrigation meetings which addressed the mechanics, agronomics, and economics of irrigation systems resulting in farmers reducing energy costs and adopting need-based water use through use of soil moisture sensors.
Chippewa and Eau Claire Counties have fruit and apple sales over one million dollars annually making pest management is a high priority among apple growers. Through the collaborations of state specialists Jerry secured several grants to help apple growers learn to monitor for pests and potentially reduce pesticide use as well as providing participating growers with insect trapping and weather monitoring equipment and access to crop consultants and professionals. Jerry also worked with other agriculture agents to secure funds from a USDA Rick Management grant to develop and deliver Management Assessment Centers designed to improve participants' management abilities and initiate the development of personal action strategies. Jerry developed assessment centers for commercial apple growers, expanding the suite of curricula to fruit crop growers.
To learn more about Jerry's UW-Extension scholarly work please click here.