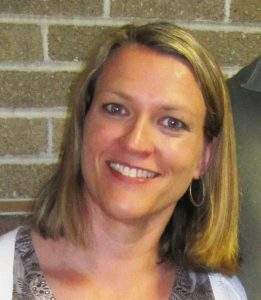 Kristin Krokowski has served as the Waukesha County UW-Extension Commercial Horticulture Educator since 2001. Her major programing efforts focus on the agriculture entrepreneurship, green industry education and local food production. Kristin also works with farmers' markets statewide in the areas of organization, development and food access.
Kristin's primary area of focus is to provide research, education and leadership for area farmers' market vendors and managers. Kristin was instrumental in implementing the use of electronic benefits transfer (EBT) technology at farmers' markets to allow federal Supplemental Nutrition Assistance Program (SNAP) benefits to be used at markets statewide. She worked extensively to help develop and train others working with farmers' markets, not only in Waukesha County but throughout the state, specifically to establish and broaden the use of EBT systems which expanded the economic impact and nutritional value of local farmer markets. Farmers' market managers surveyed, overwhelmingly indicated that the most successful aspect of implementing EBT was the benefit to the SNAP clients. All managers agreed that adding the EBT service was a success at their markets.
Kristin's research, including a $90,000 grant, created valuable information, not only for her own project, but for other educators and community partners working with farmers' markets across the state. Her results were published in the Journal of Agriculture and Food Systems and Community Development.
Additionally, Kristin has written articles, factsheets and the publications including "Creating a Successful EBT program: A Guide for Wisconsin Farmer's Markets". Kristin has used innovative teaching methods to expand her outreach, including a series of webinars that have been archived for others to use in the future. Kristin shares her work with colleagues through presentations at state and national professional development programs. She also works closely with the Wisconsin Farmers Market Association.
To learn more about Kristin's UW-Extension scholarly work, please click here.