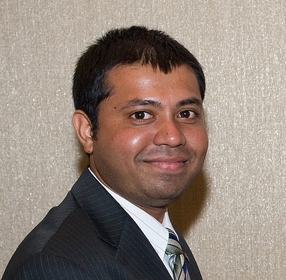 Vijai Pandian has served as the Brown County Agricultural Agent specializing in horticulture since 2006. Vijai's primary programming efforts are in commercial and consumer horticulture.
Vijai partnered with the Green Bay and Fox Valley chapters of the Wisconsin Landscape Contractors Association (WLCA) to offer an annual four week short course series to train local landscape and lawn service providers on sustainable landscape practices. Over 250 landscaper professionals benefited from this training program.
In response to 2013 downy mildew outbreak on greenhouse grown impatiens, Vijai developed and hosted a greenhouse grower's seminar in partnership with local greenhouse businesses. UW-Extension specialists and private industry representatives presented various educational information related to pest and disease management. This seminar was attended by greenhouse growers, landscape instructors and students from the local technical colleges. Vijai was able to build relationship with the greenhouse growers and technical college students and provided opportunity for growers to build a better network connection in the region.
Vijai teaches Master Gardener level 1 and 2 trainings. The number of Master Gardener Volunteers (MGV) in the local association has increased from 57 to 76 in the past three years. Through multiple demonstration gardens in the community the MGV's increased the food security in the community by donating more than 1000 pounds of fresh vegetables from the demonstration gardens to local pantries. The MGV's trained in Level 2 assisted at the horticulture help desk, increasing the efficiency in responding to consumer calls in a timely manner; which enabled Vijai to organize and conduct more summer horticulture programs and classes.
In response to gardener's desire to grow blueberries and the challenges of growing blueberries in alkaline soils, Vijai co-published a UW-Extension Garden Fact Sheet entitled "Growing Blueberries in Containers".  He also created a YouTube video on growing blueberries and published several articles on the topic. He established blueberry demonstrations and trial gardens at the Green Bay Botanical Garden and Brown County UWEX grounds.
To learn more about Vijai Pandian's scholarly UW-Extension work, please click here.