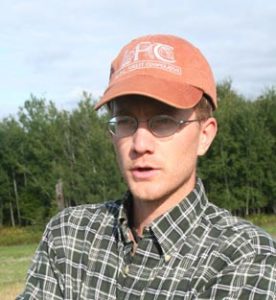 Jason Fischbach, UW-Extension Agriculture Agent for Ashland and Bayfield County since 2001, became a half-time statewide Food and Energy Woody Crop specialist in 2013.  His primary Extension work involves bioenergy and horticulture.
Jason continues to develop hazelnuts as a new agricultural crop appropriate for Northern Wisconsin.  Nearly a half million dollars in grant funding has been secured, including screening wild populations of American hazelnut for potential domestication, as well as developing mechanical harvesting options and enterprising budget tools.
Jason established 20 acres of research plots of hybrid poplar and willow.  In 2015 the first willow from these plots were harvested with two on farm trials established in 2016 to further test promising willow cultivars.
He also secured over $75,000 in grant funding to build six high tunnels in five school districts and the Bad River reservation as part of his Farm-to-School outreach efforts, which also included an innovative "Agriprenuer" program completed by nine students.  He also helped the Bayfield Regional Food Producers Cooperative increase marketing and sales for local farms with gross sales nearing a half million dollars.  This work lead to his certification as a value added food/business consultant with DATCP.
Jason is a highly prolific researcher, with several recent and pending publications including thirty-five research bulletins related to hazelnut development, nutrient management on the clay soils of northern Wisconsin, as well as white currents and raspberries.
To learn more about the scholarly UW-Extension work of Jason, please click here.