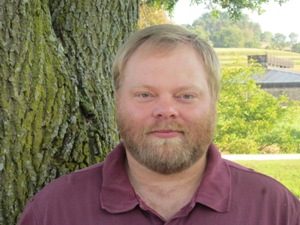 Adam Hady has served as the Richland County Agricultural Agent since 2004. Adam's program has focused on dairy and livestock production, farm business and decision making, and addressing the non-traditional agricultural producer.
Adam Hady's Extension programming focuses mostly on beef, swine, and poultry production. Adam co-authored the UWEX Holstein Steer Finishing and Yardage Cost Survey and has served on the livestock team and has been on the Swine Team since 2012. Pork Quality Assurance+ (67 producers trained) and Transporter Quality Assurance (31 trained) have been a large part of his effort. With Adam's assistance, the Swine Team has developed the Bader Swine Symposium as a yearly educational program that rotates from UW-Platteville, UW-River Falls and the Arlington Agriculture Station.
His Composting Livestock Mortalities presentation was given at several events and it was filmed for University Place and has since been broadcast on the Wisconsin channel of Wisconsin Public Television nine times; it is also available on YouTube, and at http://wpt.org/University-Place/composting-animal-carcasses.
Adam has also presented poultry information via e-EXTENSION to nearly 100 producers and agriculture agents. He has also conducted high quality educational programming in agronomy and farm management, and as co-authored several publications: An Assessment of the Wisconsin Swine Production Sector; UW-Extension Holstein Steer Finishing Yardage Cost Survey; General Swine Project Disease Prevention Guidelines; and Pig Breeding Systems for Small and Beginning Pig Farmers.
To learn more about the scholarly UW-Extension work of Adam, please click here..