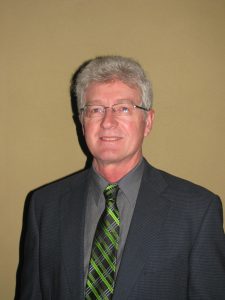 Ken Schroeder has served as the Agriculture Educator in Portage County since 2006.
Ken Schroeder has been highly active in the area of cover crops, designing and implementing a multi-year study at three locations.  Data collection and analysis were both led by Ken for this project.  Portage County has significant variation in soil characteristics from sandy to heavier soils.  On sandy soil vegetable crop systems Ken has conducted additional cover crop studies focused on legumes and other cover crops to limit Nitrogen (N) leaching and reduce commercial N requirements.  Ken has presented his work in vegetable crop systems to approximately 300 vegetable growers and crop consultants.
In 2015-16 Ken worked with local stakeholders in organizing the Farmers of Mill Creek Watershed Council focused on improving water quality of the Mill Creek.  With Ken's involvement, a $20,000 grant was received from the Wisconsin DATCP to initiate the project.  With Ken's leadership an additional $19,975 was granted for 2017.  In 2016, 21 farmers installed conservation practices on over 750 acres and approximately 150 farmers and local residents attended three field day offerings.  Ken has worked to engage farmers and the non-agriculture public on the topic of water quality, connecting the Mill Creek group with the Petenwell and Castle Rock Stewards lakes group.
Ken's programing includes fruit and vegetable production, working with commercial and home use tomato and potato growers to reduce the impact of Late Blight, a highly pathogenic disease.  Ken has offered food safety trainings for fresh market fruit and vegetable growers, collaborating with state specialists as appropriate.  Over the past five years approximately 60 growers have attended one of these trainings.
To learn more about the UW-Extension Scholarly work of Ken, please click here.