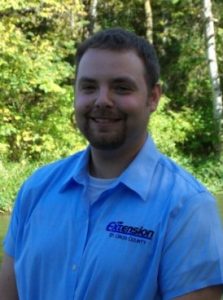 Ryan Sterry first served in Polk County from 2006 to 2010, and has been serving St. Croix County since August of 2010.
Ryan Sterry has been instrumental in developing and implementing programs for farmers in dairy modernization and replacement heifers, beef handling and quality assurance, financial management, and sheep and small ruminants.  This has been accomplished through a combination of group meetings, facility tours, and one-on-one consultations. A 2013 evaluation of the facility tours conducted by Ryan demonstrated that two-thirds of the respondents made better informed decisions to improve their dairy facilities.
In 2013, Ryan collected on-farm data for the Dairy Team heifer cost of production project.  Data from this project provides breakdowns for several fixed and variable costs associated with raising dairy heifers and is utilized by thousands of farmers, service providers, and consultants. This year Ryan will serve on the leadership team working to update heifer cost of production data including automatic calf feeders.
Ryan trained and certified 36 farms in Beef Quality Assurance (BQA) in the past five years.  A 2015 teaching evaluation documented a change in knowledge of BQA practices of +1.2 (Likert scale 1-5, 1=poor and 5=excellent) and Presentation effectiveness of 4.5.  Ryan has included live cattle handling demonstration featuring hands-on learning. A Lambing and Sheep Handling Facilities educational video was developed and the videos are available on YouTube: http://stcroix.extension.wisc.edu/agriculture/dairy-and-livestock/ 
Ryan has also developed a strong farm management training program including QuickBooks, a cropland rental survey, and Annie's project. Evaluations of these programs demonstrated excellent results. An evaluation of the farmland rental rate factsheets produced by Ryan and other colleagues demonstrated the factsheet was used by nearly 70 percent of the respondents (n=453). Ryan served has a coauthor of a Journal of the NACAA entitled: "Women Are From Venus: Unique Programming Needs & Challenges Of Women Farmers".
To learn more about the UW-Extension scholarly work of Ryan, please click here.