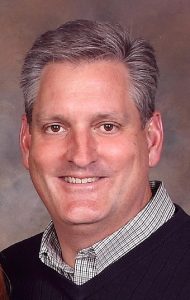 Greg Blonde has been the Waupaca County UW-Extension Agriculture Agent since 1984, providing educational support for dairy, livestock and crop enterprises, including farm business management, marketing and agriculture public policy related issues. He works closely with local farmers and other Ag professionals to improve their knowledge and decision making skills related to farm profitability and natural resource sustainability.  Some examples include: developing and supporting local on-farm research (using fungicides on forage crops; alfalfa/grass mixes; cover crops), field demonstrations (first crop alfalfa quality "PEAQ Stick"; corn silage harvest moisture monitoring; improved manure management practices) and other innovative ideas including the development and publication of three smartphone apps since 2014 to help determine the value of standing alfalfa and corn silage crops.
Greg works with statewide Extension Dairy Team colleagues to host the annual "Cow College" program, a multi-county event that started in Waupaca County nearly sixty years ago. Cow College includes a series of classroom and on-farm learning activities highlighting the latest in dairy research and technology adaptation. Greg also helped establish the Wisconsin Dairy and Beef Industry Animal Wellbeing Conference and provided leadership in 2015 to expand the audience to include vocational Ag Instructors and Students, in addition to dairy farmers, employees and industry professionals. To date the conference has reached more than a thousand participants.  In 2016 he also worked with colleagues in northeastern WI on a dairy cow hoof health evaluation project, including a new publication on Hoof Health and Housing.
Since 2011 Greg has served as Academic Department Chair for the UW-Extension Department of Ag & Life Science providing leadership and support for faculty mentoring, faculty annual reviews, faculty rank promotions and post-tenure reviews.   In 2015 Greg received the WI and National Association of County Agriculture Agents Distinguished Service Award.
For more about Greg, click here.