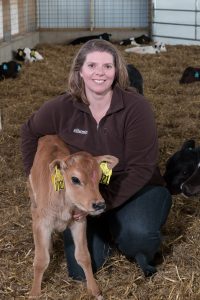 Dr. Sarah Mills-Lloyd has served as the Oconto County UW-Extension Agricultural and Livestock Agent since 2013. Oconto and Marinette counties have an agent specialization arrangement in which Sarah specializes in dairy and livestock production across both counties while the Marinette County Agent specializes in agronomy and horticulture in the same area. Sarah is well qualified for this specialized role having served for a number of years as a veterinarian primarily working with dairy clientele.  Her programming emphasis is in dairy calf management, dairy modernization, milk quality and farm management.
Sarah has developed several publications including materials used statewide by farmers, veterinarians, Extension colleagues and other industry professionals regarding compliance with a new FDA regulation, the Veterinary Feed Directive, regarding use of antibiotics in animal agriculture. Sarah collaborated and develop materials on gastrointestinal parasites in cattle that has also found value for bison owners. Sarah's impressive body of work has extended across the state as well as internationally as she served as an instructor for a course in the UW-Madison / Nestle project in Heilongjiang province, China.
Her research utilizing an Adenosine Triphosphate (ATP) meter obtained through grant funding has allowed her to conduct trainings using this technology, which has also had measurable impact on multiple dairy farms in the area. Sarah has also obtained specialized training to become a certified positive pressure ventilation system designer.
Additionally, Sarah works to improve the profitability of farm businesses by leading her own research in several on-farm projects including sanitation for dairy herd replacement calves and digital dermatitis, a debilitating and profit robbing disease of dairy and beef cattle.
Dr. Mills-Lloyd is a key member of the Agriculture and Natural Resources Extension (ANRE) Dairy and Beef Teams, including leadership roles planning, organizing and presenting the annual statewide UW-Extension Dairy and Beef Animal wellbeing statewide conference.
To learn more about the UW-Extension scholarly work of Dr. Mills-Lloyd, please click here.