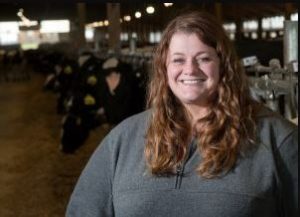 Aerica Bjurstrom has served as the Agricultural Educator for Kewaunee County since 2007. Her program area focus is in dairy and livestock production.
Aerica has focused on dairy herd management and modernization including farm owners, operators and employees (Hispanic and non-Hispanic). Several of her programs and publications were provided in both English and Spanish.   Seventy-six percent of the more than 100 Kewaunee County dairy producers indicated they implemented some (27%) or all (49%) of the changes as a result of her work helping them improve animal comfort and performance through improved facility design.
Her recent field study on dairy cow hoof health evaluated nearly 12,000 cows on forty-five farms in several northeast Wisconsin counties resulting in two peer reviewed fact sheets and presentations at multiple national dairy industry events including the 2016 World Dairy Expo and the 2017 Professional Dairy Producers Annual Meeting. This work was also featured in two leading industry publications including Hoard's Dairyman and WI Agriculturist magazines.
Aerica has been a member of the Beef Team since 2012 focusing on cow/calf production and planning state-wide meetings for producers on an annual basis.
In additional to her scholarly work, Aerica has provided significant leadership in recent years serving as Secretary for the 2017 WI Farm Technology host county Executive Committee; Co-County Office Department Head since 2015; co-chair of UW-Extension Dairy and Livestock Tram workgroups and past Chair of the WI Association of County Agriculture Agents Scholarship Committee. Her leadership and performance have been recognized with awards annually since 2013.
To learn more about Aerica's UW-Extension scholarly work please click here.