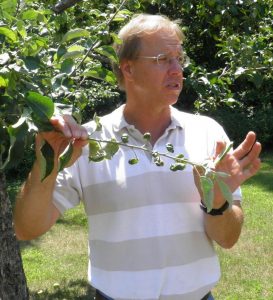 Kevin Schoessow serves Burnett, Washburn and Sawyer counties as the Extension Agriculture Development Agent. Kevin is based at the Spooner Agriculture Research Station office in Spooner.  His major program focus are in the areas of Small Scale Commercial Fruit & Vegetables and Agriculture Development.
Kevin has been active in educational programming for commercial horticulture as well as agriculture development. In partnership with Master Gardener Volunteers he has developed and utilized the award-winning Teaching & Display garden at the Spooner Research Station as a regional resource for demonstration, and the setting for dozens of hands-on educational workshops annually.  In 2018 this garden was utilized for 21 educational programs, including 15 led by Kevin, reaching over 750 participants. The garden is open to the public with an estimated 3,000 visitors annually.
Kevin has partnered with the Spooner Station and local growers on a variety of horticulture research projects, including cold-hard grapes, high tunnel raspberry and most recently on organic vegetable variety trials. These projects are focused on supporting local foods and the thriving tourism industry in the region.
Working closely with community partners Kevin has facilitated the distribution of 20,000 lbs. of produce from the Research Station projects to food shelves, senior centers, schools and Tribal centers.
His programming efforts reflect the unique nature of a Northern location influenced by lakes, seasonal residents, and a shorter growing season. Kevin works with local conservation staff and farmers on cover crop education and demonstration plots.  Most recently his education focus has been with regards to nutrient management, specifically Nitrogen utilization.
Kevin has produced fact sheets on horticulture topics and recently produced his first YouTube video on grape management and has been a frequent guest on Wisconsin Public Radio Garden Talk show. He has taken on added responsibilities working with a very active NW Wisconsin Graziers network, due to recent staff retirements.  Currently Kevin serves as a Vice Chair for DALS.
To read more about Kevin's scholarly Extension work, please click here.