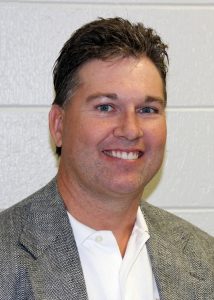 Kevin Jarek has served as the Outagamie County UW-Extension Agriculture Agent since 1999. Kevin's program efforts are in the area of agronomy and horticulture.
Kevin's educational programming in agronomy and horticulture has been exceptional. In the Agronomy area, he has led and conducted extensive research projects in the areas of alfalfa and corn silage production and written numerous articles which have been published in the Midwest Forage Association newsletters and as a UW-Extension Fact Sheet.  In addition, Kevin has presented the results at a number of forage council workshops, the Team Forage Teaching and Technology Conference and at the Wisconsin Agribusiness Classic.
Kevin's work also includes farm management programming, including individual farm financial analysis, authoring timely articles on farm management topics and presenting related topics at area farm management meetings.
With regards to horticulture, Kevin has provided significant leadership as well as quality programs with the Master Gardener Volunteer program. He has given demonstrations on rain gardens, rain barrels, and other water retention/quality issues, including a presentation entitled "Saving for a Rainy Day", which he not only presented to the MGV but other audiences as well.  The Outagamie County Master Gardeners have a strong membership that contributed over 10,000 volunteer hours in 2017, and have hosted the State Master Gardener Conference twice.
In addition to his leadership role with the Master Gardeners, Kevin has also provided significant leadership for the Team Forage Displays at the 2017 and 2018 Farm Technology Days shows, was the UW-Extension representative for the World Forage Superbowl held in conjunction with World Dairy Expo. Kevin has been a contributing member and served in leadership rolls on the Forage, Grain and Nutrient Management Teams as well as served on the Department of Agriculture and Life Sciences Standards, Rank and Promotion Committee and has served as a mentor to several new agents.
To learn more about Kevin's scholarly Extension work please click here.