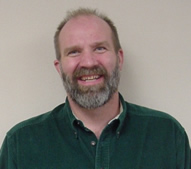 Carl Duley has served as Buffalo County's Agriculture Agent since 1985. He has recently been promoted to Professor.  Crop Production and Management is his primary area of focus.
Carl has been a leader in the hops and malting barley programming that was created as a result of the increasing interest in growing hops and malting barley for the expanding the craft brewing industry in Wisconsin, while providing an alternative crop with less erosion for local farmers and landowners in western Wisconsin. He has secured ten grants totaling more than $300,000 to support his applied research and publications, including fertilizer, fungicide and variety field trials.  Carl has reached over a thousand growers and potential growers, helping expand hop production to more than $2.5 million annually, including establishing, coordinating and hosting the WI Hop Seminar each year since 2010.
Carl has provided leadership helping establish the Buffalo County Barley Society in 2014 where he continues to serve as local advisor today. His leadership roles in Extension include: the Dean's Faculty Tenure Advisory Committee; DALS Standards, Rank & Promotion Committee; and Chair of the Extension FARM Team Management Assessment Center.
You can learn more about Carl Duley's scholarly UW-Extension work here.