Wisconsin's climate has changed since 1950. The average temperature for the whole state has risen by roughly 1.0–1.5 deg. F. The rise has been uneven: northwestern parts of Wisconsin have warmed by roughly 2.0 deg. F; southern and northeastern parts have not warmed much, if at all. Temperature changes also differ by season. Winter and spring have warmed more than summer and fall. Nighttime low temperatures have risen more than have daytime highs.
A changing climate will have both positive and negative impacts on Wisconsin.  Too much or too little precipitation, increasing extreme storm events, too much heat or too many freeze-thaw cycles. These extremes may become more common in the weather patterns of Wisconsin.  Certain regions of the state, ecosystems or economic activities will be more vulnerable to these types of changes, while others will be more resilient.
These websites provide more information on historic and projected changes in environmental variables like temperature, precipitation, and extreme storm events that can affect the sustainability of species and habitats that support cultural, economic, and recreational practices that we value and our communities rely on.
Wisconsin Initiative on Climate Change Impacts (WICCI)
Wisconsin Initiative on Climate Change Impacts (WICCI) website provides science-based information to help identify vulnerability to climate change and climatic variability and enable better planning, investment, and other adaptation activities. WICCI research is presented in easy to visualize map formats of historic and projected changes in climate variables with interpretation of these impacts on economic, cultural, and community sectors and recommendations for adaptation.
Great Lakes Indian Fish and Wildlife Commission's Climate (GLIFWC) Vulnerability Assessment
This vulnerability assessment focuses on 60 Ceded Territory species (referred to as "beings") which were selected for study based on information and interviews provided by tribal elders and harvesters. The assessment integrates qualitative traditional ecological knowledge (TEK) of the Lake Superior Ojibwe people with quantitative scientific ecological knowledge to provide a more holistic understanding of climate impacts on the sustainability of species and habitats.
Wisconsin State Climatography Office
Current climate and weather data for Wisconsin cities and regions. Includes teacher resources and links to other state and national climate research.
UW-Madison Center for Climatic Research (CCR)- The Nelson Institute
CCR builds understanding of the climate system through interdisciplinary investigation of past, present, and future climates. Besides sharing climate research, this website includes interactive climate visualization tools, interactive map, and graphics.
Climate Wisconsin-Stories from a State of Change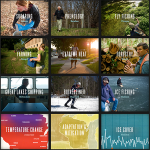 This website offers a collection compelling video vignettes, sharing personal stories of how climate change is affecting cultural, economic, and recreational practices that Wisconsinites value.
This publication provides guidance on how
specific aspects of Wisconsin's climate will
be different in 2050 than they are today, and
how communities can prepare themselves
for those changes.
Take the next step and investigate how we can make Wisconsin's communities more resilient to climate change