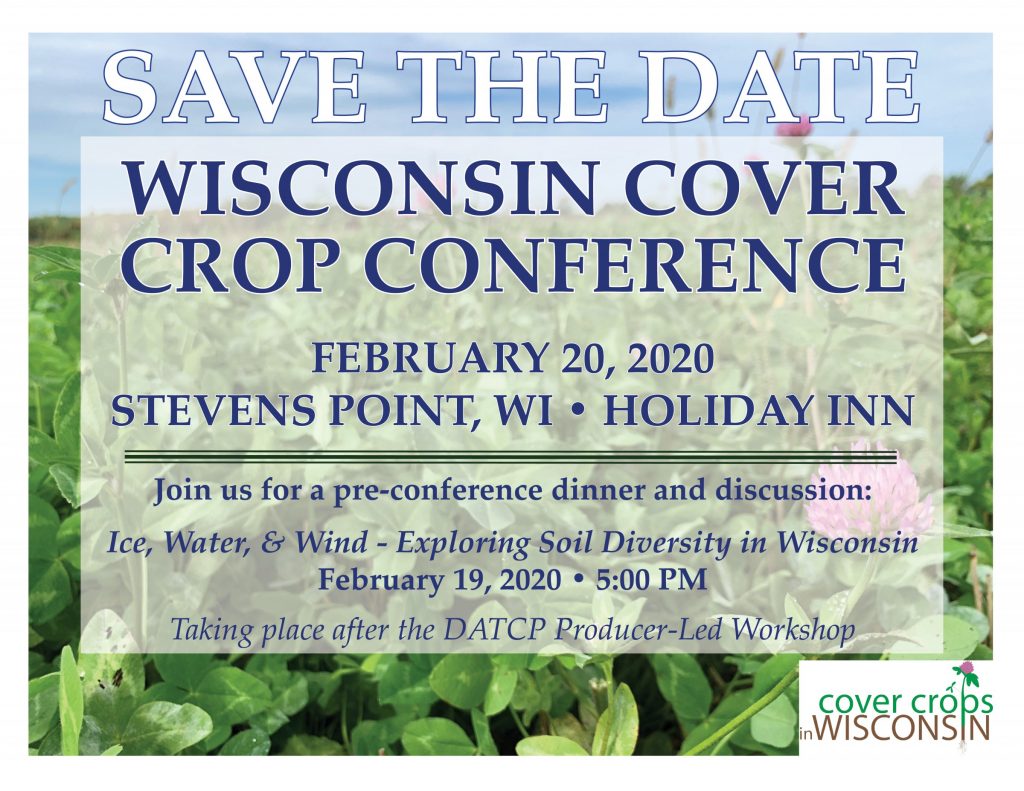 Farmers and agricultural professionals from around the state are coming together to share & learn about all things cover crops. Whether you're a seasoned cover cropper or an absolute beginner, there will be something for everyone!
Topics include maintaining soil health while managing manure, easy points of entry for beginning cover croppers, assessing soil health, using cover crops as an alternative forage, and soil health systems & extreme weather events. 
Many of the presenters will be Wisconsin grain and livestock farmers speaking from experience about what has worked and hasn't worked in their Wisconsin conservation cropping systems. 
Last year's conference was a huge success with 400 attendees!
---
Want more soil health? Check out these additional opportunities!
Advanced Soil Health Sessions:
Pre-conference dinner and discussion: Ice, Water, & Wind – Exploring Soil Diversity in Wisconsin February 19, 2020 (Taking place after the DATCP Producer-Led Workshop)
Early riser session (morning of the conference) 
Producer-led Watershed Protection Grants Workshop: 
For the convenience of farmers in Producer-led Watershed groups, the annual DATCP Producer-led Workshop will take place on Feb.19th, the day before the conference at the same hotel in Stevens Point.  For more information and to register please visit the DATCP Producer-led Watershed Protection Granting Program website   (This workshop will be followed by the optional social hour and the Soil Health Dinner – registration required for dinner)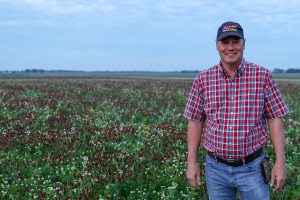 Rick Clark is a fifth generation farmer from Williamsport, Indiana. To quote the National No-Till Farmer, "To Rick Clark, 'Farming Green' is a systematic approach to regenerative soil health and that's what he brings to his 7,000 acres he manages at both Clark Land & Cattle and for his family. He strives to be the best steward of the land. A main component of his no-till system is maximizing cover crop performance and planting his cash crops into living covers to build biomass, supress weeds, recycle nutrients and feed soil microbes." Rick has been farming for 35 years and has included no-till and cover crops in his system for the last 10 years. He is a Purdue University graduate with an Ag Economics degree.  
Wisconsin Cover Crop Conference
Tentative Agenda
Wednesday, February 19th
5:00 – 8:00: Pre-conference dinner & discussion with Holly Dolliver (Requires additional registration, please see registration below) 
Ice, Water, & Wind – Exploring Soil Diversity in Wisconsin
---
Thursday, February 20th
8:00 – 9:00: Early Riser – Farmers Figuring it Out Discussions
Adding small grains to your crop rotations
60 Inch corn – Why and how?
Grazing cover crops
Cover crops in processing vegetable rotation
9:00 – 9:30: Break and Registration for Conference Attendees
9:30 – 10:30: Keynote Speaker: Rick Clark
10:45 – 12:00: Concurrent Sessions: Select a session
Session 1: Planting Green
Session 2: Maintaining soil health while managing manure
Session 3: Building a soil health system – Easy points of entry
12:00 – 1:00: Lunch and time to visit with exhibitors
1:00 – 2:15: Concurrent Session: Select a session
Session 4: Herbicides, cover crops, and weed management
Session 5: Assessing soil health
Session 6: Getting more out of cover crops – Using as an alternative forage
2:45 – 4:00: Summary Session
Soil health systems and weather extremes – Lessons learned in 2019
Wisconsin Cover Crop Conference Registration
Registration closes Friday, February 14, 2020

Please note: Walk-ins are welcome, but will be required to pay via cash or check. Credit card payments will only be available to those who pay on personal mobile devices. 
The DATCP Producer-led Grant Program Workshop, the Soil Health Dinner, and the Wisconsin Cover Crop Conference will all be held at the Holiday Inn in Stevens Point, 1001 Amber Ave., Stevens Point, WI
To book your reservation online: click here!
To book your reservation over the phone:
Phone number: (715) 344-0200 and press #3.
Please reference the following:
Group Name: Dane County UW Extension
Group Block Code: DCE 
Hotel rates:
Single Occupancy: $82.00/night
Double Occupancy: $109.00/night
Please note the rate will be available until January 19, 2020 or until block is full – so don't wait, reserve your room today!
You can sponsor the Wisconsin Cover Crop Conference! 
Last year's conference was a huge success, drawing 400 attendees!!
Sponsors of the 2020 cover crop conference will also enjoy the benefit of recognition at the WI DATCP Producer-Led Workshop and the Soil Health dinner featuring Holly Dolliver presenting on Ice, Water, & Wind – Exploring Soil Diversity in Wisconsin being held the evening before the Cover Crop Conference, February 19th.
To register as a sponsor, click here!