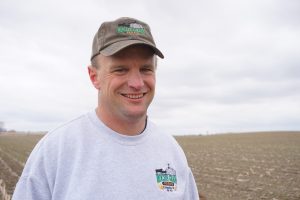 David farms with his two brothers Kevin and Dennis.  They are 5th generation farmers in Dodge County, Wisconsin. The Roche family has farmed the land since the 1850s.  Primarily growing corn and soybeans, with some wheat, on 3,000 acres. They also run a beef feedlot, with about 1,000 steers on feed.
While David and his family have been working the land for generations, they're relatively new to using cover crops, and have been planting them for the past 3 or 4 years now mostly after wheat. "We really wanted to improve our soil health, reduce our erosion, and lower our chemicals.  We made a commitment to getting covers on more acres." Though they initially just started with cover crops after wheat, they are now fall seeding cereal rye after corn and soybeans, broadcasting it and using a vertical tillage rig to lightly work the seed in.  The Roche's also started interseeding covers into corn at V4 to try and increase the growing days on covers for corn harvested late.  David and his brothers modified a sidedress machine with an extended frame so that they can sidedress nitrogen into corn and interseed covers at the same time with 2 drill units between the rows. Last year's interseeding showed no yield loss on where covers were interseeded versus no covers.  Since starting to use cover crops, David has noticed increased soil structure and better erosion control on fields with covers.
David is a member of the Dodge County Farmers for Healthy Soil and Water and enjoys learning from farmers at meetings and workshops through the Dodge County Farmers group.  He works with Heidi Johnson and the WI Cover Crops Team, and follows the example of other cover crop farmers for practical information on cover crops.
"Most farmers start small and work their way into it. We sort of started big and just dove right into it, so my tip would be don't be afraid, just go do it."