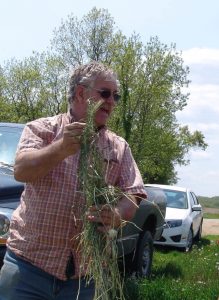 Gary Stelpflug farms several thousand acres in Grant County, raises hogs and overwinters bred dairy heifers.
Gary began using cover crops in 1983 through the PIC program in which he seeded down acres with alsike clover and planted corn the following year. Gary utilizes straw for his livestock and he currently plants winter wheat and harvests the wheat for both grain and straw. Following wheat, he establishes a cover crop of winter cereal rye and radish and harvests the mix in the fall for forage, using it for heifer feed. Since the radish always winterkills and the rye overwinters, he usually terminates the rye in the spring with a burndown.
In past years, he has harvested the rye in the spring for forage and also grows his own rye for seed. He has had the rye self-seed following seed harvest and in the fall can harvest a forage crop from these fields. This year, he harvested 1.75 tons per acre from this self-seeded rye. Rye grown for seed receives additional nitrogen for optimum rye yield and from his 2 bushel seeding rate typically yields 40-60 bushels of rye. When the rye is harvested for seed, the straw is harvested as well. Gary uses oats and peas or barley plus pea mixes as an alternative to rye. Radish has been successful on Gary's farm, and he harvests the radish for silage or lets his heifers graze on these acres. He often mixes a small amount of clover seed in his mixes for additional cover crop benefits. Gary wants to keep cover crops costs below $25 per acre. He typically has the local coop seed his cover crops when they are spreading fertilizer for the following crop with an air flow fertilizer spreader. A vertical tillage pass incorporates the seed to 1-11/2 inches. He sees many benefits to using cover crop on his farms, including the soil and environmental protection, excellent feed source and soil health benefits. His farms use a nutrient management plan, and cover crops have reduced soil loss.