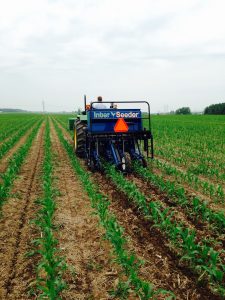 Interseeding in Northeastern Wisconsin has been tried with a number of systems. To date we have had the most success planting with the double disk opener systems, although different types of wavy coulters and Lilliston units have also been tried.  According to our observations, getting the cover up fast before canopy closure is vital to the season-long survival of the cover.
Challenges:  Herbicides and Timings
Herbicide: Choices are critical to the establishment of interseeded covers.  Sharpen and Resolve herbicides are the recommended choices due to the shorter half-life's vs other choices.  Other herbicide may be used but you will need to do your research to determine success.
Timings: With the popularity of corn silage varieties in North Eastern Wisconsin; many producers choose silage or dual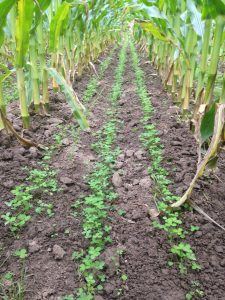 purpose varieties with higher populations above 32,000 plants per acre.  These varieties tend to be very tall; which canopy closure happening very quickly.  Penn St. recommends planting at 5 leaves.  We recommend producers consider planting at 3-4 leaves if planting higher management corn silage or tall dual purpose varieties.
Positives:  Very nice establishments, side dress nitrogen at the same time as planting, and established cover crop before harvest.  Corn grain harvest and then trying to plant a cover can be very challenging.
We have had very nice establishments of Red Clover, (probably one of our favorite options) crimson clover, radish (very aggressive end of year, potential yield hit) and annual ryegrass.
Many producers like to side dress liquid nitrogen, this is a great opportunity to establish a cover. "kill two birds with one stone so to speak."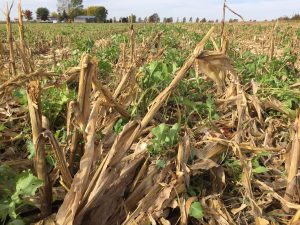 Late season establishment with the ability to apply low disturbance manure into the established cover crop.
Late season sunlight harvest which is so important to the biology of our soil, "Food for the biology into the winter months."