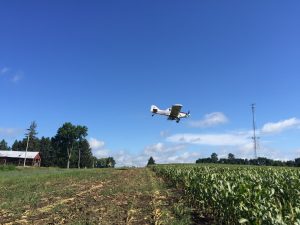 Kristopher Knutson farms nearly 1,800 acres using no-till and minimal till practices in Crawford County, and his son raises 50 steers on the farm.
Kristopher started using cover crops following wheat harvest as part of the Conservation Stewardship Program (CSP) while working with the Natural Resources Conservation Service in Crawford County. Currently, on his wheat acres, he uses a fertilizer spreader to put on fertilizer (potash) with oats, radish and field pea. Following the spreader application, he uses a vertical tillage tool to incorporate the seed and fertilizer.
He started using the Environmental Quality Incentives Program (EQIP) cost share program to fly on cereal rye, radish and oats onto standing corn and soybeans in 2014. The EQIP cost share program in cooperation with the Crawford County Land Conservation Department has resulted in aerial seeding of cover crops on over 3,000 corn and soybean acres in Crawford County with great success. Kristopher has learned that timing is critical to cover crop success with aerial seeding. Cereal rye established well in the aerial application following soybeans when applied at the correct crop maturity. To improve cover crop and cash crop success, he uses a chopping corn head, row cleaners, and Precision Planting on both of his planters to manage residue while increasing production.
Kristopher sees many benefits in using cover crop on his land. As he moves to become more resilient and sustainable on the rolling land of Crawford County, he has begun applying small amounts of nitrogen throughout the growing season and has purchased the equipment to begin interseeding cover crops at the same time. He decided to invest in the equipment after having success with the rye and is experimenting with interseeding red clover into V5-V7 corn. Planting cover crops has allowed for improved nitrogen utilization and hopefully reduced application rates in the future. He has seen a large reduction in soil erosion, particularly with cover crops helping to absorb heavy rainfalls and prevent gully erosion on many of his acres. Terminating the cover crop early in the spring saves soil moisture and helps improve planting conditions. He is currently working to incorporate cover crops on 100% of his acres.