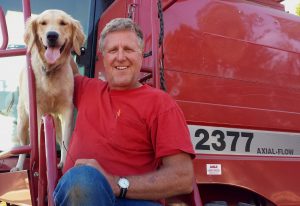 Since 1982, Ross Bishop has worked on a 600 acre farm in Washington County where he raises beef cattle and grows corn, soy beans, and wheat.
Ross has a long history of practicing no-till agriculture on his land, as he's gone twenty-three years without using a plow. His interest in no-till first came about when he attended the national no-till conference twenty-four years ago. Similarly, he was introduced to cover crop practices at this conference just over ten years ago, and started practicing shortly after. Since then, he has been using a variety of cover crop types and experimented with various cover crop cocktails (a huge variety of mixed seed species). More recently, Ross started planting cereal rye after harvesting his soy beans. "When you do cover crops, it's creating organic matter in the soil, plus it's creating all of these pore spaces – I describe it kind of like a honey comb effect." Ross explained how practices like this helped him get through the 2012 drought that devastated Wisconsin five years ago. Unlike many, that year turned out to be his best year for corn and soy yet.
Practices like this also encouraged him to join the NRCS Conservation Stewardship Program (CSP) and receive support for his ecologically more responsible methods of cultivation. Looking forward, Ross is excited to learn more about research being done on cover crops that can benefit his own practice. Research on fertility and low disturbance manure applications is particularly important to him. "We really don't want to work the ground in the area because there's a lot of bedrock." Ross said, "I don't think that people understand that when you keep plowing it and keep working it, they can't create that pore space. When harvesting in the fall, and with the combine being so heavy it would put a 3″ footprint in the soil, and by next Spring you don't see it; it's like a sponge. That ground comes right back up with the freeze/thaw of the winter." He's also interested in which cover crops best benefit different plants, since plants in different broad leaf and grass families have different needs.
"Be careful with annual rye grass – it's hard to kill and affects soy bean populations if it isn't killed – and don't plant your cover crops too early or they'll go to seed – planting between the 10th and 15th of August is ideal."