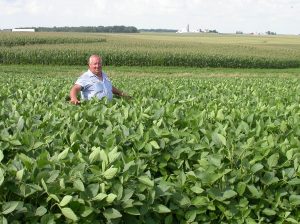 Steve Adrian and his son Adam milk 300 cows, feed 160 steers and cash crop several hundred acres in Grant County. Steve began using cover crops in 1978 due to a hay shortage when he planted winter cereal rye to feed to heifers. For the past 12 years, their farm has been planting rye after silage corn. During the first three years of cover cropping, they received cost share from Natural Resources Conservation Service (NRCS).
Following silage corn harvest, manure (liquid dairy) is applied at 8,000-10,000 gallons per acre, and a field cultivation pass is done to incorporate the manure. The rye is seeded with a drill at 80 lb per acre. The following spring, rye is harvested for dairy and steer silage at boot stage, and soybeans are then no-till planted. No additional fertilizer is applied for the rye or soybeans. The rye typically yields 15 tons per acre with moisture of 65-68% and is stored in a silage bag.
The rye is chopped free of atmospheric moisture (dew) to better control moisture content and quality. The rye makes an excellent forage for their steer high energy and finisher rations. The dairy cows receive 3.5 lb rye per day. Rye has also been an excellent feed supplement when dry years have reduced expected forage production. Rye planted after silage corn helps reduce runoff and soil loss, helping to meet the standards of their comprehensive nutrient management plan. Steve and Adam have never seen a decreased soybean yield following rye when compared to the corn-soybean rotation acres. Adrian Ridge Farms use rye as a cover crop to protect their land and provides a high quality feed source the following spring. Their nutritionist, Danny White (White's Feed Service in Fennimore) sees rye as a great supplemental feed source. Rye should be stored properly for best feed value and planning should include speedy harvest, which must often occur during the spring planting season, to maintain quality and avoid weather damage.