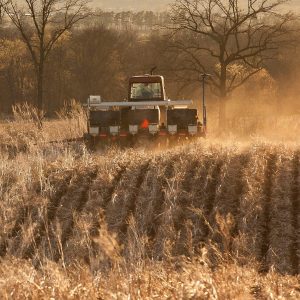 Tom Burlington farms 430 acres of alfalfa, corn, soy, and wheat in Jefferson County, WI. Though his family's been farming since the 1600's, his father bought his farm back in 1950, where Tom bought it from him thirty years later.
After his first year running the farm, Tom made some insights that guided how he'd manage the land to this day. "We found out in 1981 that tillage would not work here, because we had a wind storm that blew our alfalfa seeding away in April of 1981 – that's how our journey started with all of this!" The following year, he started his first no-till plot on 15 acres into a cornfield, all the while hearing pushback from other farmers on how no-till wouldn't work. With such skepticism surrounding him, it took him another 10-15 years to transition the whole farm, though he soon was able to share with others how successful the practice was on his land.
"It was up to us to prove those people wrong. Tillage earned its way off our farm with vigor because it would not give us a return. It was a total failure here!" After many comparison trials and observing no yield increases with tillage, Tom stuck with the practice and hasn't looked back since. "You know, you're required to have the ability to do nothing, and boy I was born with that gift. You hear all this static, 'Oh you're giving up yield by not doing tillage.' Well that's false! I see these guys out there destroying all that pore space multiple times a year, and then they'll wonder why their field will have a pond in it! I don't get it. So I continue to watch college football in fall, when everyone else is running around with chisel plows – I can do that! Someone's got to drink the beer."
As time passed, Tom looked ahead for the next new practice. His first encounter with cover crops came at a talk he attended over 15 years ago. The speaker explained how we have extra light and moisture left in the soil after harvest, why not utilize it to create better infiltration? "It's about the water you get that soaks in" Tom explained, "I can't grow corn with water running down the ditch." Soon after he started cover cropping after wheat and before corn, transitioning to cereal rye after corn harvest. While his primary planting method is to interseed, he tried flying his seed into standing corn for 3 years, but decided it was too inconsistent on his land. Although he no longer uses this practice, he encourages others to still give it a try. Since then, Tom now lives by two rules: 1) don't disturb the soil, 2) grow a diverse mix of crops and covers – though he learned quickly that this step takes effort. "You have to order the seed. You gotta plant the seed. You gotta know when to put it in, what mix, when to terminate it, and all that sorta stuff – and all that's up for discussion." He describes this step as a process that takes time and some patience, but pays-off big. Picking the right species mix after wheat, for example, is an ongoing challenge for him. He no longer is using Sudan grass and is looking for a cover variety that's sterile or doesn't go to seed to make for the perfect mix.
With 15 years of cover cropping under his belt now, Tom urges farmers to pair no-till and cover crop practices together. "I've seen the changes on our farm – I've seen it respond and I've seen it improve." While he talks about the ecological benefits he's observed, he claims how the two pay off financially over the years as well. "I've got neighbors that go out there that dig the soil up and the air will fill with dust. Well, those are dollar bills in the air! These nutrients aren't cheap. You think I'm going to let my fertility blow away? Forget it!" Cover crops have also helped him meet his Nutrient Management Plan (NMP) requirements and his enrollment in the Conservation Stewardship Program (CSP). He's now experimenting with interseeding covers into corn. He's looking for a species that can be interseeded the 1st of June and survive under the canopy throughout the heat of summer. So far he's tried annual rye grass, perennial rye grass, and this year he'll be trying festulolium – a cross between fescue and rye grass. While the proven practice is to drill cereal rye after corn harvest, he's hoping he can get some promising results from these interseeding trials.
Outside of meeting and talking with farmers, the Conservation Tillage guide is Tom's easy favorite resource, along with the No-till Farmer Monthly newsletter.
Tom recommends that the easiest thing you can do is to plant cereal rye after corn or soy on a limited number of acres – at least 10% of your cropland – just to go through the motions of doing it. He also made note that you don't have to use a drill to do it. "It's $5-10 an acre for seed, this isn't a big expense."