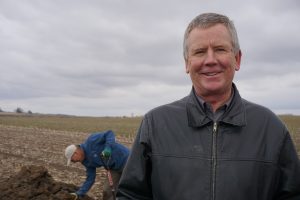 Tony works with his sons and brother on their dairy farm in South Central Wisconsin, near Watertown. His family has been working the land there since 1942, when his father first purchased the property. They farm on nearly 1,000 acres growing soy and alfalfa and raising 200 dairy cows.
Tony started no-tilling in the early 90's and has been cover cropping for over 10 years now. "There wasn't a lot of talk about cover crops then" he explained, and it wasn't until he joined a watershed program 10 or 12 years ago that he took an interest in them. In addition to using no-till and waterways, the program required that he add a cover crop to his corn silage land, and while it took time to establish, he started seeing the benefits early on. Now Tony keeps about 80-90% of his land is in cover crops, mostly in winter cereal rye. Tony also grows about 30 acres of rye for seed to sell and will use a five-way mix, with things like like peas, oats, field clovers, and radishes after rye harvest. "The mixes will go on up until September, but if we plant after then it's mainly just cereal rye."
After over 10 years of cover cropping, Tony claims that using cover crops paired with no-till have significantly improved his soil health. "In the hills around here, we couldn't do the cropping we do without no-tills and covers.", He has seen noticeable improvements to his soil's aggregation, availability of P and K, and control of problematic weeds like water hemp and giant ragweed, particularly when he uses cereal rye. He's also noticed that the organic matter in his soil is increasing and the pH is balanced. "We haven't limed in quite a few years. I think the covers and no-till are bringing our soil biology back – we're even seeing the worms back in our soil." In addition to the soil health benefits, Tony has also noted that he spends much less time and money on tillage practices, fertilizer, and herbicides. He's signed up this year for the cost sharing Conservation Stewardship Program (CSP) and will be experimenting this season with interseeding on a 30' no-till drill while they harvest corn and soy in the fall.
Tony mentioned how many groups on social media across the U.S., and even in Europe, have been great resources for his conservation practices. Groups like the Dodge County Farmers for Health Soil and Water, farmer to farmer conversations at events, and speakers like Ray Archuleta, Gabe Brown, David Grant, and others don't cost him a thing and help with his understanding of these issues on a practical level.
"It ain't going to happen overnight. It's going to take 3-5 years to build your soil to get your soil biology going. I've got a neighbor who did it one year, didn't get a good crop this fall and had a bunch of covers growing, and just chiseled them all up. Start out with cereal rye into September-October, then just no-till soy beans into it the following year. Either you can kill it a week before or kill it a week or so after."