Click the image below to check out our map full of research resources, farmer stories, and events!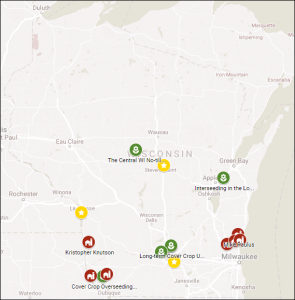 Cover Crops after Corn Silage in Dane County

For the last three years, Dane County Extension and Yahara Pride Farms (a farmer-led watershed group) have conducted cover crop plots to evaluate what cover crops work best after corn silage in this region.  We have evaluated planting dates, cover crop species, planting rates and various planting methods. Read more….

---

Cover Crops Interseeded into Corn in the Lower Fox River Basin

Inter seeding in Northeastern Wisconsin has been tried with a number of systems. To date we have had the most success planting with the double disk opener systems, although different types of wavy coulters and Lilliston units have also been tried. According to our observations, getting the cover up fast before canopy closure is vital to the season-long survival of the cover. Read more….

---

Cover Crop Interseeded in Corn using a Modified Grain Drill

The objective of this study was to evaluate interseeding cover crops into V5 corn using a modified grain drill and to access cover crop biomass and corn grain yield. Read more…

---

Impact of Corn and Soybean Herbicide Carryover on Cover Crops

The objective of this research was to determine if herbicides that are commonly applied to silage corn or soybean adversely affect cover crops planted after harvest. Read more…

---

Termination of winter rye and annual ryegrass used as spring forage crops

The objective was to evaluate methods and timings applicable in a conventional dairy system for annual ryegrass and winter rye termination when used as forage. 2014 and 2015 results suggest that utilizing glyphosate immediately following forage harvest can provide successful termination of both species. Read more…
Crimson and Berseem Clovers after Wheat in Sheboygan County

This study explored a using annual clovers as cover crops after wheat to enhance rotational impacts, to provide nitrogen credits to the next year's crop, and potentially provide a late season forage crop.  Read more…

---

Cover Crops effect on Net Ecosystem Carbon Balance in Grain and Silage Corn

This study explored whether carbon is gained or lost when cover crops are integrated into corn grain and/or silage rotations.  Read more…
Integrating Winter Forage Cover Crops into North‐Central Wisconsin Crop Production Systems

This study evaluated whether a shorter day soybean could be used with a spring-harvested triticale forage crop without sacrificing soybean yield. Read more…

Corn Silage with Winter Rye Cover and Forage Crops

This study evaluated corn silage yields when there was no cover crop vs rye used as a cover crop and as a forage crop.  Rye forage quantity and quality was also evaluated.  Read more….Read more….
Long-term Cover Crop use and Soil Health

The objective of this study was to determine the effect of continuously using cover crops for 4 or 5 years on soil health, measured as potentially mineralized nitrogen (PMN) and permanganate oxidizable carbon (POXC).  The study site was a continuous corn silage system with fall manure application and no further N added. Treatments included rye as a cover (chemically terminated) or a forage (harvested) crop and no cover crop Read more….