Extension's impacts in communities in response to COVID-19
Extension's mission to embody the Wisconsin Idea and connect university knowledge to all points of the state frequently requires direct contact with the people we serve. The COVID-19 outbreak, and the resulting physical distancing response, created and intensified challenges for our stakeholders. We are engaging with parents, youth, farmers, business owners, non-profits, community groups, government officials, and other stakeholders by providing actionable guidance and resources during this stressful and confusing time. It is key to our mission to provide relevant and responsive information – this includes providing information in culturally and linguistically appropriate formats that serve the people of Wisconsin in the best possible fashion.
The core strength of the Extension model is to quickly and meaningfully connect needs with actionable resources. This operational model is specifically effective during volatile emergency situations. Our educators rapidly detect disruptions and issues – and they develop, deliver, and update vetted support by collaborating statewide, across organizational boundaries, and in real time. This additionally allows Extension to broadly share newly developed resources across the state and nationally and to strengthen cross-sector networks involved in the emergency response.
Follow along with our work and impacts:
Additionally, you can read about some of these new innovations below, and more impacts are continuously added.
Extension is uniquely positioned across the state to lead a multitude of responses to COVID-19, linking experts in critical research to a population in need of guidance and multilingual, practical resources. By working across the Division and using the pathways we've built, Extension brought guidance, resources, and solutions to communities in the following ways:
The COVID-19 pandemic put new and intensified financial strains on individuals, households and businesses. Financial stress for small businesses and nonprofits across all sectors has increased from the outbreak, and entrepreneurs as well as non-profit boards are scrambling to secure potential financial relief to stay afloat. The pandemic has intensified Wisconsin farmer's existing struggles for financial survival, mainly due to diminished demand and unreliable supply chains. Similarly, individuals and families are affected financially, as seen through a massive spike in unemployment claims. Many residents were already financially vulnerable before, and due to the pandemic, financial assistance programs rapidly changed around them.
How Extension has responded
Extension serves as a strong partner for families, farms, and other businesses as they are hit by the financial ramifications during this emergency. We immediately expanded our educational programming to compensate for other financial support services shutting down during the pandemic. Additionally, we offer webinar-style resources for residents across Wisconsin related to family finances. Our staff are supporting economic development officials in coordinated responses targeting small businesses, and we are providing education and planning support as they are working to support their constituents.
In-depth: Guiding farmers through challenging financial decisions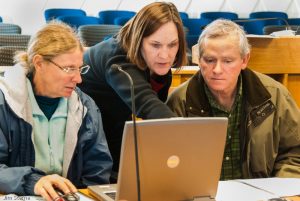 The COVID-19 outbreak occurred during an already challenging economic time for farmers. Many farms may face tough conversations in the year ahead. Extension specialists and educators provided resources for economic recovery. A three-part video series and subsequent fact sheets are being used to help farmers understand the risks and develop a plan to address the challenges that may be faced today as well as in the weeks and months ahead. This included the development of new tools for calculating cashflow, debt, and equity assessment as well as guidance for making a plan for next steps.
The pandemic has created new challenges for businesses, organizations and governments when it comes to maintaining their daily operations. Shifting modes of collaboration, new health requirements, shortages in personal protective equipment, an overall adjustment to working from home, and limited access to public spaces converged into complex operational difficulties for Wisconsin's professionals. For example:
Farm businesses need support in emergency decision-making related to adapting their operations to diminishing product demand (e.g. dairy and cash grains) and related to modifying livestock management due to closures of meat packing plants.
Small-scale, local food businesses found that they were abruptly shut down or challenged to operate using different production and distribution systems.
Teachers were in immediate need of additional online teaching materials, specifically related to STEM topics.
Community groups, businesses, and local governments were met with a communications emergency involving both the need to winnow through a vast amount of new information and the necessity to distill that information for their stakeholders.
How Extension has responded
Extension staff hold online workshops for agriculture professionals and professionals in the food business and other sectors, addressing supply chain and health issues, providing management consulting, supporting contingency planning, and providing information on financial relief programs. Additionally, Extension created resources for businesses and organizations to connect with state agencies and keep informed on changing policies. To ensure that our volunteers receive the training and support they need to continue their valuable work in their communities, Extension educators created support resources and immediately created online training.
In-depth: Creating curriculum for school-age students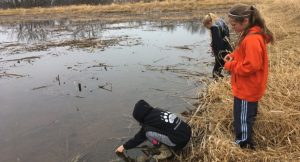 The Rivers2Lake education program at Extension's Lake Superior National Estuarine Research Reserve transitioned into providing virtual mentoring to teachers enrolled in year-long outdoor and place-based learning professional development. Teachers identified a need for place-based outdoor opportunities for students that would be applicable across grade levels. Reserve staff then worked with the Superior School District to clearly define this need. Rivers2Lake staff and interns then began making weekly videos that shared local phenology and encouraged students to make observations in their backyard. Accompanied with worksheets for kindergarten to grade 5, the weekly videos helped Reserve staff connect with students and provide an opportunity to support the school district as it responded to COVID-19.
Employees, employers, and residents are concerned about their safety and are seeking guidance on best practices related to maintaining health. Due to social sheltering measurements, many residents have lost access to physical activity opportunities, such as older female residents and individuals in rural areas. Many do not have access to trusted or reliable information related to maintaining health, due to lack of internet access or because materials are not linguistically or culturally appropriate. Public health professionals, healthcare professionals, and county-based recovery and emergency task forces are seeking support in coordinating response efforts, and in ensuring that support reaches all residents equitably and in a culturally appropriate manner.
How Extension has responded
Extension educators and researchers across the state developed web-based information and guidance on staying healthy. Our staff shared timely research results, best practices, and policy updates with community organizations, residents, businesses, non-profit organizations, coalitions, and county, municipal, and tribal governments. To reach our constituents and foster action, we leveraged social media, direct outreach, traditional media outlets, and various web presences. By working with our own and partners' networks, we specifically aimed at making critical health information accessible to non-traditional and linguistically diverse communities across the state.
The COVID-10 pandemic has impacted food supply chains, food producers, and emergency food systems in catastrophic ways. Due to rising unemployment and financial insecurity, food pantries and other emergency food operations experienced additional demand while being challenged to maintain a safe environment for their customers, employees, and volunteers. A spike in unemployment and under-employment combined with a stressed emergency food system led to increased demand for identifying food procurement and safe preparation methods.
How Extension has responded
Extension created online resources and guidance for food pantry operators and other players in the emergency food system. This provided pantry operators with best practices linked to evidence-based guidance designed to promote access to safe and healthy food. We are engaging with farmers markets across the state to support them, helping residents who receive food assistance to have access to local, healthy produce. Additionally, Extension educators compiled information for households to find and access food resources and other health and well-being support services. Information for individuals about food safety, stretching dollars for food, stocking a healthy pantry, and eating healthy on a budget were distributed through online media channels and through partners. This created a path to get knowledge directly to those who could benefit from it the most.
In-depth: Supporting mobile food operators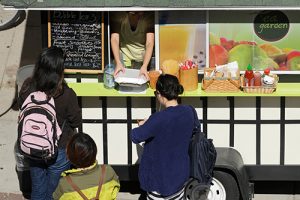 Unlike traditional restaurants, food cart and food truck vendors in Wisconsin do not have a statewide association to rely on for information. Street vending is a growing segment of the business community and counts one of the highest numbers of business owners that are women and people of color. When the COVID-19 outbreak occurred, mobile food operators needed customized assistance in the rapidly changing landscape of operating a food business in which illness and new regulations were major considerations. Extension partnered with the City of Madison to produce resources for licensed food cart and food truck vendors to maintain operations during pandemic-related restrictions. This guidance covers safety, grants/loans, childcare support, and more critical topics to keep these businesses going.
Across Wisconsin, food supply anxiety created a unique need for gardening courses to be moved to online formats. In the wake of the pandemic, Wisconsinites who never gardened before sought research-based educational opportunities. Likewise, seasoned gardeners sought additional resources and guidance to help others.
How Extension has responded
Through webinars, online consulting and web-based resources, Extension provides best practices and guidance to home gardeners who are interested in growing and processing their own food during the pandemic. We also support engaged residents and community organizations in their mission to make self-grown food accessible to those in need by providing planning support and connecting them through our vast partner network.
In-depth: Virtual connection for Master Naturalist instructors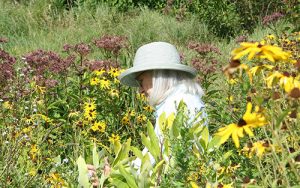 Extension's Master Naturalist program supports a network of highly dedicated volunteers and instructors committed to conservation service, leadership, and lifelong learning. Through expert-led trainings typically held both outdoors and in the classroom, Master Naturalists are equipped to address environmental challenges facing the state. In the past, Master Naturalist instructors have held retreat events to share knowledge and receive training to better support volunteers. Due to the COVID-19 pandemic, this event was held online, coordinated by Master Naturalist leadership and staff. Instructors discussed programming at their organizations during COVID-19 restrictions and provided critical feedback for updating and transforming their curriculum. This work resulted in enhanced training and retention of volunteers to provide valuable service throughout the state.
The current pandemic has disrupted family routines. Families are forced to practice physical distancing, and some families have struggle through the loss of loved ones. Youth and adults are disconnected from important spaces such as school, work, and youth organizations. These spaces are usually relied on to maintain social relationships with both peers and adults, receive support, and learn and grow. Correctional facilities restrict visitation, which prevented children of incarcerated residents from interacting with their families. Additionally, the risk of social isolation for older residents dramatically increased. The mental health of those seeking to support their communities, such as county employees, community organization employees, volunteers, and engaged residents, was negatively impacted. Strengthening the well-being and safety of those serving their communities is a crucial aspect of sustainable, effective and human-centered emergency operations, especially in times of crisis.
How Extension has responded
Through our existing programs aimed at family mental health and farm/business mental health, we were able to immediately adapt and provide information during the evolving crisis. Extension is strategically providing accessible, culturally and linguistically relevant information and programming to those impacted the most by this crisis, and we are closely collaborating with community organizations serving cultural and linguistic minorities in the state in order to support them in their mission. Through leveraging and supporting our network of 30,000 4-H volunteers and other engaged residents we mitigate the loss of learning opportunities in school and community settings by providing online learning opportunities that ensure that 4-H youth and other youth and families can enrich their lives safely while sheltering. Newly developed at-home educational kits have been created and vetted by experts, guiding families with children through activities related to STEM, creativity, problem-solving, and community service.
In-depth: Continuing a tradition of art in times of physical distancing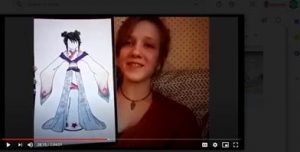 "Art Lab Extended" builds on a January in-person learning experience and provides an opportunity for high-school aged youth across Wisconsin to be involved in conversations about art, community, and future careers through virtual video conferences. More than 75 youth have participated in sessions including "Careers in Art + Sharing Art from Home," a fun and educational hour of interactive art activities and discussions with professionals about their careers in the arts. "Art In Isolation" was hosted by the Wisconsin 4-H Art Team to "explore ways to do art at home, lead an activity to create community art together, and guide us to inspire each other with art we have created during this time of physical distancing."
Communities rely on strong collaboration and coordination between local government, organizations, and residents for support structures and emergency responses. The COVID-19 pandemic had a dual effect on local coordination: It disrupted communication channels and collaborative spaces, and it intensified the need for collaboration between a variety of organizations and institutions. Specifically, county-based recovery and emergency task forces are seeking support in coordinating response efforts as they move through the stages of this emergency.
How Extension has responded
Educators and researchers immediately provided our partners with interactive learning environments and opportunities to create unified communication and expand the reach of services and messaging. We provided space and facilitation guidance for organizations, residents, businesses, and governments to coordinate response and exchange information. Our community and organizational development professionals support local organizations and county governments in planning and implementing emergency operations and services. As the crisis develops, we are actively supporting local players in planning for safe re-opening options and contingency plans. We specifically engage in connecting organizations that are serving traditionally marginalized audiences to ensure that vital services and communication are reaching all residents in Wisconsin. This work also provided an opportunity for Extension professionals to learn more about emerging situations in counties, which in turn inform Extension program development and Extension-funded research.
Want to learn more? Sign up for our email newsletter.