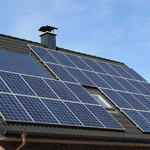 From Wausau City Pages, August 2017.
St. Anthony in Marathon is answering the Pope's call for clean energy
St. Anthony Spirituality Center in Marathon City has gone through many changes in its nearly 100-year history, starting out as Capuchin Catholic seminary then several years ago reinventing itself as a retreat center for people of all faith groups. While many other similar, originally religious institutions have struggled after changing their focus—often selling their properties to commercial ventures—St. Anthony has thrived.
But like any nonprofit, St. Anthony always is mindful about continuing to pay its bills. That's partly why St. Anthony's director, Deacon Bryan Hilts, spearheaded the installation of 68 solar panels on the retreat center's property. The investment in clean energy will save thousands of dollars for St. Anthony over the next 30 years. But for Hilts, St. Anthony's staff, volunteers and supporters, it's more than just a fiscal measure. Rather, it's a way to honor the call of Pope Francis.
Read the full article.