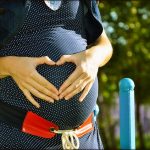 From Beyond Pesticides, August 31, 2017.
Researchers at the University of California, Santa Barbara report in a new study that exposure to pesticides as a result of living near agricultural areas increases the risk of giving birth to a baby with abnormalities. These results are more significant for those exposed to very high levels of pesticides, underscoring the continued risks faced by farmworkers and farmworker families, especially mothers living near chemically-intensive treated fields.
The study, "Agricultural pesticide use and adverse birth outcomes in the San Joaquin Valley of California," looked at individual birth and demographic characteristics for over 500,000 birth observations between 1997 and 2011 in the agriculturally dominated San Joaquin Valley, California. The researchers, who report their findings as, "the most comprehensive to date, bringing together the largest data file ever compiled on street-address level birth outcomes and fine scale exposure to agricultural pesticides," analyzed residential agricultural pesticide exposure during gestation, by trimester, and by toxicity influences on birth outcomes: birth weight, gestational length, or birth abnormalities. Adverse birth outcomes increased by 5–9% among those exposed to very high quantities of pesticides (e.g., top 5th percentile, i.e., ~4,200 kg per square mile applied over gestation). According to the results, " The magnitude of effects were further enlarged for the top 1%, where these extreme exposures (>11,000 kg per square mile) led to an 11% increased probability of preterm birth, 20% increased probability of low birth weight, and ~30 g decrease in birth weight."
Numerous chemicals are used daily in close proximity to residential areas, making it difficult to ascertain a specific responsible agent. As a result, in this study, the researchers looked at the combined results from all pesticides used in the region. Looking at pesticide use by aerial and ground application, the study finds that exposure to high pesticide levels from ground applications had a significant effect on birth weight, gestation, preterm birth, and birth abnormalities. The authors note ground application represents roughly 95% of total active ingredients used and, thus, high ground exposure represents most of the cumulative pesticide exposure measure.
Read the full article.