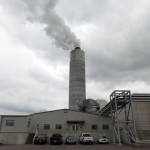 From the New Jersey Herald, January 11, 2018.
When the Portland (Pa.) Generating Plant burned coal to produce electricity, pregnant women who lived downwind in four New Jersey counties had a statistically higher chance of having a low birth weight or pre-term birth.
Now that the plant no longer burns coal to create electricity, birth weights have returned to average and more babies are staying in the womb full-term, according to a paper to be published in the Journal of Environmental Economics and Management.
This latest study by Muzhe Yang and Shin-Yi Chou, faculty members of the Economics Department at Lehigh University in Bethlehem, Pa., is the natural follow-up to the authors' previous study, which showed a correlation between the pollution levels being produced by the plant and low birth weights of babies born to women who lived in the four-county area, all within 60 miles of the plant.
In 2009, the last full year of unregulated operation, the plant on the western bank of the Delaware River spewed more than 30,400 tons of sulfur dioxide up into the westerly winds, which blew the pollutants over Warren, Sussex, Morris and Somerset counties. That same year, all of New Jersey's electric generation plants combined produced just over 12,800 tons of SO2. The Portland plant was rated by the federal Environmental Protection Agency as the fifth highest for SO2 emissions in the U.S.
In 2009, New Jersey had 10 coal-burning units operating at seven plants, the state Department of Environmental Protection said. Today, there are three units at two South Jersey plants.
The Portland plant was not unique in being a "free riding" operation for its owners and Pennsylvania, but it was unique in that New Jersey was able to prove in court that the high levels of SO2 that wafted across the river came from that plant.
The report notes the term "free riding" comes from other studies that show states can derive economic benefit from pollution-producing operations, such as taxes and employment, while a downwind state sees the negative results of pollution.
This newest study looks at birth weights and preterm births for those women who became pregnant after June 1, 2014, the date the plant stopped burning coal entirely, and Dec. 31, 2016, the last date for birth records available from the New Jersey Department of Health.
"This (study) shows a significant impact due to the shutdown," Yang said.
Read the full article.