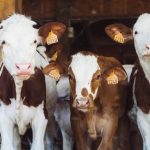 From the Milwaukee Journal Sentinel, January 24, 2018.
MADISON – The Department of Natural Resources took a major step on Wednesday to toughen standards for manure spreading after years of complaints over polluted wells and pressure from interest groups that have been pushing officials to protect Wisconsin's most vulnerable soils.
The Natural Resources Board voted 7-0 to add new restrictions on spreading across eastern Wisconsin — a region prone to manure contamination of groundwater and drinking water.
The action is the first big step by the administration of Gov. Scott Walker to toughen regulatory powers to control pollution tied to agricultural practices, but the measure still faces funding shortages and an uncertain fate in the Legislature.
The regulations — recommended by staff of the DNR — target 15 counties on the state's eastern border, including metropolitan Milwaukee.
But they are especially intended for farms in the northeast, where cattle populations have grown, especially among large livestock operators, and geology creates conditions where manure can trickle through soil and taint groundwater.