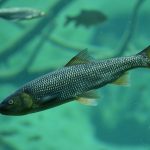 From Wisconsin Public Radio, February 5, 2018.
Judge Counsell Calls Removal Of Habitat A 'Flagrant And Knowing Disregard Of The Judicial Process'
A judge has ruled in favor of a central Wisconsin farmer who turned a drainage ditch on his property into a trout stream.
Clark County Circuit Judge Jon Counsell ruled the Portage County Drainage District has to pay Donald Justin Isherwood's legal fees and reimburse him for the cost of restoring his trout habitat.
Isherwood worked for years to improve the habitat for brook trout in the drainage ditch, Isherwood Lateral, that runs through his property. He added woody vegetation for cover and increased the flow of the spring-fed water. He claimed there were tens of thousands of trout in the stream in January 2017 at spawning season.
The drainage district board saw the project as an obstruction, one that threatened the drainage of surrounding farm fields.
The district used a backhoe to remove the trout habitat on June 6, about three weeks before a court date in which Isherwood was going to argue for a restraining order.
On Wednesday, Counsell called the district's action "egregious conduct and a flagrant and knowing disregard of the judicial process" that amounted to destroying the evidence needed for a ruling on Isherwood's request.
"(Counsell) said that was the evidence of the issue, and then they go and they destroy it. It was foolhardy. It was wrong. It was contrary to due process," Isherwood told WPR after the ruling.