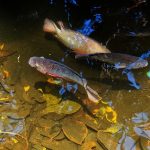 From OPB, February 13, 2018.
Each time it rained during an eight-week period in the winter of 2015, someone from Jenifer McIntyre's team drove up to Seattle and collected stormwater near the Highway 520 bridge across Lake Washington.
It was a rainy stretch, so that meant 25 trips.
After each trip, McIntyre says, "we would bring the dirty runoff to the fish" — the larval fish the team was rearing in Indianola on the eastern side of Puget Sound — "and expose them to that for 24 or 48 hours."
The researchers were trying to figure out whether or not stormwater affects fish even before they hatch.