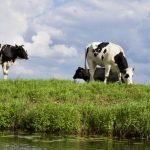 From Phys.org, March 14, 2018.
With supply exceeding demand, large farms taking center stage and plant-based alternatives luring consumers away, times are hard for small organic milk producers in the United States.
"At the current prices, we are in the red," said Spencer Aitel, who keeps 55 milking cows on his Two Loons Farm in Maine.
At the request of his co-operative, he had to reduce the size of his herd by 20 percent.
But a little over 20 years after entering the organic business in 1996, Aitel has paid off most of his debts and is confident the crisis in the industry will pass.
"I don't think 2018 is going to work—2019 might," he predicts.