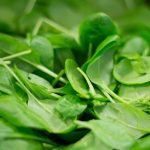 From Environmental Health News, April 10, 2018.
Pesticides residues are found on about 70% of tested produce; new research suggests this exposure could impact fertility
Just when you thought it couldn't get any harder to eat healthy.
Turns out those nutrient packed foods we're all told to eat—such as strawberries and spinach— are also consistently tainted with potentially harmful pesticides. Both foods top the "Dirty Dozen" list released today by the Environmental Working Group (EWG), which analyzed federal data on pesticides in produce.