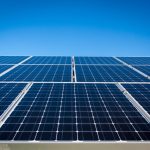 From Next City, April 9, 2018.
While Wisconsin Governor Scott Walker is busy deleting the role of humankind in causing climate change, Eau Claire, the 68,000-strong former factory town in northwestern Wisconsin, has adopted an ambitious sustainability plan to achieve carbon neutrality and 100 percent renewable energy.
By a unanimous vote at the end of March, Eau Claire City Council passed a resolution formalizing those two primary goals, setting a timeline to achieve a net-zero carbon footprint by 2050 at both municipal and citywide levels; and to achieve 100 percent renewable energy for both the municipal government and citywide by 2050.