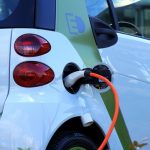 From Fresh Energy, April 25, 2018.
This April, Minnesota policymakers made two key decisions that will speed the electrification of the transportation system.
Electric vehicle off-peak charging pilot approved
On April 12, 2018, the Minnesota Public Utilities Commission unanimously approved a pilot program proposed by Xcel Energy that will charge electric vehicle owners less for fueling their cars overnight when electricity is cheaper. While the pilot is small, it is the first step toward turning electric vehicles into a grid resource. Rather than requiring a second utility meter (as Xcel's current electric vehicle rate does), the pilot would use "smart chargers." Smart chargers can not only serve as a meter for an electric vehicle rate, they are also capable of being controlled by the utility. In the future, utilities will be able to tell smart chargers to charge electric vehicles during high-wind production hours, which will help integrate variable renewable generation while also lowering costs for all customers.