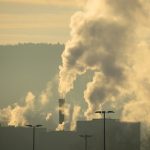 From the New York Times, May 10, 2018.
WASHINGTON (AP) — Environmental Protection Agency chief Scott Pruitt on Thursday announced a major shift in enforcement of the landmark Clean Air Act to include feedback from state and local governments and others on the economic impact of federal pollution limits.
The initiative sets the stage for potential legal battles over how the United States enforces the 48-year-old law combating air pollution. Federal law and U.S. Supreme Court decisions require the EPA to focus on public health — not costs — in setting limits for smog, soot and other pollutants under the Clean Air Act.