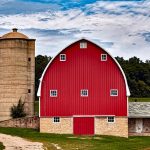 From the New Food Economy, May 29, 2018.
The University of Wisconsin Cooperative Extension has reduced its fleet, bought out ranks of rural agents, and cut the number of positions across the state. Now farmers stand to lose access to 100 years of knowledge at a time when they need it most.
afayette County, Wisconsin is farm country.
Blessed with fertile soil, as the local government website boasts, farming is still the county's primary vocation, with over half of its residents working in agriculture—the highest such rate in the state. The livestock, corn, soybeans, and alfalfa hay grown there are among Wisconsin's most valuable, and its fields among the most productive in the state.
"Anyone who has spent time in Lafayette County has likely noticed the summer wind wafting waves through the rows of corn, soybeans or alfalfa in contour with the rolling hills," a farmland preservation plan reads, "heard the distinct hum of a grain bin's dryer fan in the fall, or turned their nose toward the breeze to catch the faint silage as it's fed to hungry cows on a winter morning."
Sounds bucolic. But county officials say farmers are struggling.