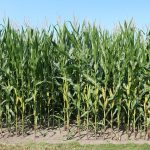 From Duetche Welle, April 6, 2018.
Glyphosate is a herbicide that's used to kill undesired plants. Pulling up plants, or "weeding," does the same thing without chemicals, but it's very labor-intensive. What if tireless robots could weed fields cheaply?
Professor Simon Blackmore, head of robotic agriculture at the UK's National Centre for Precision Farming at Harper Adams University in England, says that increasingly sensitive and precise sensors and instruments are being developed that can measure the "complex nature of the growing environment" on every square meter of farmland — the soil and water conditions; the presence of pests and diseases; the location of weeds, and the size of crop plants.