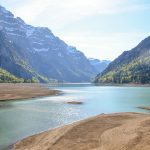 From E & E News, June 25, 2018.
TULARE COUNTY, Calif. — The bottom is falling out of America's most productive farmland.
Literally.
Swaths of the San Joaquin Valley have sunk 28 feet — nearly three stories — since the 1920s, and some areas have dropped almost 3 feet in the past two years.
Blame it on farmers' relentless groundwater pumping. The plunder of California's aquifers is a budding environmental catastrophe that scientists warn might spark a worldwide food crisis.
"This is not sustainable," said Jay Famiglietti, a senior water scientist at NASA's Jet Propulsion Laboratory. "If those aquifers continue to be depleted and if we start running out of water in these big aquifer systems, the global food system is going into meltdown mode."
Hidden from view, groundwater accounts for 30 to 60 percent of the water that Californians use every year, depending on how much rain and snow the state receives.