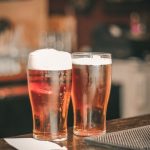 From the New York Times, June 25, 2018.
For some people, beer is the perfect end to a workday. For Bertha Jimenez, it's the start of a new way to eliminate food waste.
Breweries throw out millions of pounds of used grain every day that could have other uses. While some is repurposed as animal feed, compostable products or heating fuel, little has been exploited for its value as food.
But Ms. Jimenez, 35, has created a small start-up, Rise Products, that converts the grain into a flour that is finding its way into sustainable bakeries and kitchens in New York and as far away as Italy.