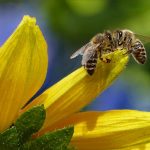 From the New York Times, August 21, 2018.
Honeybees are under siege, straining the business of farming. Now growers are turning to other bee species to help their crops.
OMAK, Wash. — Jim Freese grows apples, pears and cherries on 45 acres in the north-central part of this state, on sagebrush-studded land his grandfather bought in 1910.
Walking among trees laden with shiny red cherries, Mr. Freese recalled that four years ago his trees were not producing well and his farm was financially struggling. Like many growers, he had been relying on rented honeybees to pollinate his cherry trees every spring, along with wild bees and other insects.
But that year, spring was expected to be cool. "Honeybees will just sit in the hive in cooler weather," Mr. Freese said. He needed a way to ensure more flowers would develop into fruit than in the past.
At a horticulture meeting, he learned that blue orchard bees — a native species that doesn't make honey or live in hives — could be used to supplement honeybee pollination. Blue orchard bees will fly at cooler temperatures.