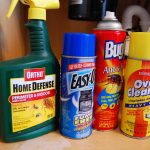 From Bloomberg News, August 20, 2018.
Walmart Inc., the world's largest retailer, will stop selling paint strippers containing a solvent linked to more than a dozen deaths and a second solvent that could harm the development of babies in the womb.
The phase out applies to paint strippers with either methylene chloride or n-methylpyrroilidone (NMP). Suppliers must stop shipping paint strippers with either solvent by the end of this year, meaning the products should no longer be sold by the end of February 2019, a Walmart spokesman told Bloomberg Environment.