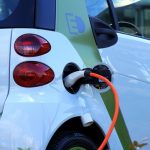 From Desert News InDepth, October 17, 2018.
In the center of Oslo, a man-made cavern rests beneath a hulking stone castle. A winding tunnel leads underground to a large opening, eerily dark and cool, where metal bars block the path to a medieval prison. Inside, you'll find something out of place for the 17th century: 86 electric cars and charging stations. Once an underground military bunker, the cavern is now a parking garage.
City officials repurposed the fortress, which used to protect the city against war-hungry Swedes and Danes, to guard against a new threat: air pollution.