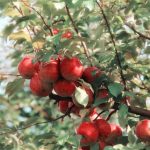 From the Milwaukee Journal Sentinel, November 30, 2018.
While working as a physician, Peggy Callahan dreamed of having her own apple orchard. She and her husband, Ed, raised their three kids, and it remained in the back of her mind.
When a plot of land along Lake Michigan in Port Washington became available, the dream started to take shape. Starting in 2014, the couple planted 160 trees for a "test" orchard they named Dream Apple Farm.