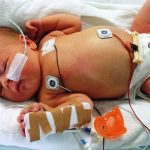 From Environmental Health News, February 7, 2019.
An inadequate focus on researching and understanding the role of the environment in cancer prevention is a failure for public health.
In his 2019 State of the Union address on Tuesday night, President Trump called for $500 million over the next 10 years to fund research on childhood cancers.
Such funding is crucial to continue tackling the devastating disease. However, missing from the State of the Union—and most other conversations about tackling cancer—is a focus on prevention, specifically the need to research, understand and communicate the role environmental exposures play in cancer risk.
The numbers on cancer incidence and deaths are complex. Although childhood cancer mortality rates have dropped considerably from the 1960s, data from the American Cancer Society shows that incidence rates have increased 0.6 percent per year since 1975.